We have been breeding rough collies since 1972.
The collie is the gentlest and most sensitive of the shepherd dogs. A highly intelligent dog, adaptable, devoted, uncomplicated and dedicated to looking after "his" family. He possesses a natural instinct to protect his family without a hint of aggression under usual circumstances. He is the perfect family dog, suitable for a wide variety of canine activities and sport such as Agility and Obedience. We are in general against attack work for dogs and especially oppose attack work for collies. From this description one can see that the collie is in actual fact that one step further than a dog. The purchase of a collie should only be considered if one is prepared to accept him as a fully equal member of the family, he doesn't deserve anything less.
We live together with our dogs and hens, we also breed yellow Orpingtons, just a kilometre from the centre of Odernheim.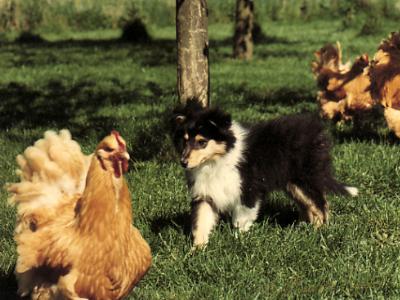 Our animals have the run of a fenced-in 20.000 square metre area. The puppies are raised in our home. They have their own puppy-room in our house and are not forced to grow up amongst tv, microwave and kitchen air. They can come and join the family at any time but can always retreat to their own room as they wish. We believe that puppies should be brought up as one brings one's children up.
We have been awarded the title of the Most Successful Collie Breeders in Germany (Collie Revue evaluation) since 1985. If you would like to find out more about us then please read the following pages.